Download Megaupload Toolbar:
(requirement to download the client)
Mirror Site 1
Download Microsoft Net Framework:
Mirror Site 1
Download Rose Luncher:
(Don't use neoncube)
Mirror Site 1
Download the Client:
(Download part 1,2 and 3 - Full patch)
(Extract Them in Order. Part 1 -1st, Part 2 -2nd. Part 3 -3rd)
Client Part 1
Client Part 2
Client Part 3
Download Hamachi:
Mirror Site 1
Mirror Site 2
IF YOU HAVE ANY PROBLEM IN DOWNLOADING OR YOU CAN'T DOWNLOAD IT JUST POST YOUR MESSAGE!! TNX..

After downloading all, Compile patch 1,2,3 into 1 folder then Run Odes Rose.
Run Triggerdetect.exe(once!) from your Rose directory ;most likely C:\Program Files\Triggersoft\Rose Online Evolution\
Note you must connect first in 1 room before entering the game and join 1 room only or i will kick and ban you!!
IF YOU HAVE ICONFIG.NHD YOU MAY JUST CHANGE THE IP OF IT.. CHANGE IT INTO
5.37.116.159
(not STABLE maybe i will change it. Its up to me. Please check always the Iconfig that i will post.)

Run the Rose Launcher.exe from your ROSE directory and press 'Play ROSEonline''
(no need to login in this screen IF you see it,thats just the forum-login Smiley just press the big Play button )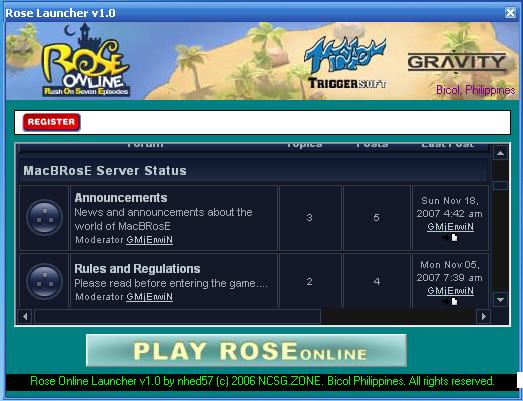 TO CREATE AN ACCOUNT:
run rose online evolution
type in a user name and password of your choice and press the green circle button.
It will come up with "User Account does not exist".
Click Confirm, then type in that SAME USERNAME AND PASSWORD you used before and you're in bussiness!
Have fun!Enjoy!